Charlie,Snoopy and Petie Crawford
Charlie (black & tan)
and Snoopy, aka The Red Baron. These two have been known to perform nightly air drops to the poor little dachshunds who are on diets. They just can't stand a dachshund in distress!




Charlie and Snoopy with Mr. Sunbeam!!

No doubt they're resting up before getting some flight time in.




Charlie loves the desert weather!




Snoopy's looking for Mommy!




Found her!!





Nothing like Doxie kisses to cool down on a hot day!


Petie joins the flight crew!


Petie, the navigator.



Bobby and the air hunds. Notice that the hunds get most of the couch!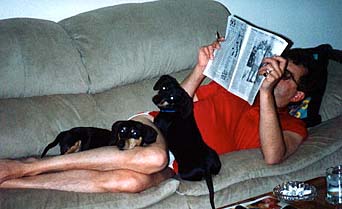 But...sometimes Bobby wins!




"Excuse me but this IS my pillow!!"




"I'm just tasting what the air tastes like."




"Hey, that guy looked familiar."


---
Last modified on Thursday, May 25, 2003.
Copyright ©2003 All Rights Reserved The Pixel Barrel
This website was created by The Pixel Barrel