The Hamilton Girls and Phrankie too! (Don't Forget Brutus!!!)


Chelsea, Tasha and Becky. {{Becky}}
is at Rainbow Bridge with her sister Mitzi.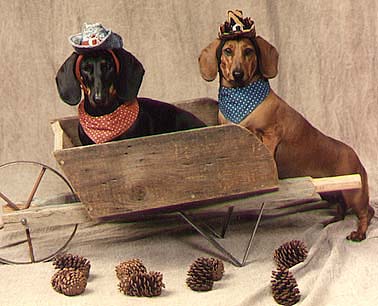 Roundup Time!
Chelsea and Tasha are joined at the hip. Where one goes, the other is sure to follow. What a team!
Both are working gals and bring joy to all the seniors they visit in the Pet Therapy program.





Visit The Girls home page.




Phrankie: What's a guy to do? The Girls are EVERYWHERE!


Brutus!


I'm not an Ugly Dachshund! I'm BRUTUS!!


---
Last modified on 16-Jan-98 07:31 PM
Copyright ©2001 All Rights Reserved The Pixel Barrel
This website was created by The Pixel Barrel