Nina, Frank and Oscar Springer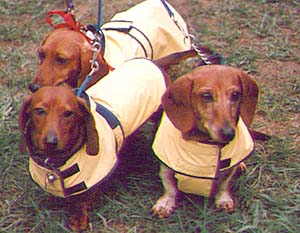 Nina Ballerina,

Frank Furter and Oscar Mayer the Weiner Dog are quite the hundful!


Nina is convinced that dog beds are only fit for sleeping in after they've been turned upside down. Frank is a star "singer" and Oscar is the resident "Food Devil" as he vacuums up food. Of course, all three think that Cathy goes to the drive-up window at the bank just to get dog bones for them! Well, what else could it be for? Sheeeesh!
Left to right- Nina, Oscar, Cinnamon Toast, Sabrett and Frank (the hoooman is Cathy!)




Brittany at 6 weeks (She's a D.I.T. or Dachshund in Training!!)



The Stupendous 6


---
Last modified on Monday, March 08, 1999.
Copyright ©2001 All Rights Reserved The Pixel Barrel
This website was created by The Pixel Barrel